Oil Chillers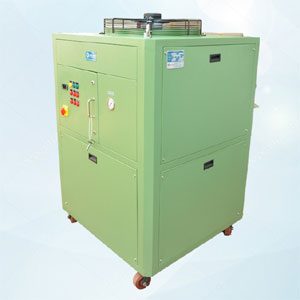 We hold expertise in manufacturing and supplying of Oil Chillers that are used to reduce the fast heat which is produced during the machine's functioning. These Oil Chillers are mostly used in applications like cutting, lubrication, hydraulics,quenching, drilling, broaching, honing, grinding etc. As the oil needs to be maintained at an accurate temperature Oil Chillers are very necessary to retain the chemical and physical properties. These Chillers are designed with immense care and adopting latest techniques to ensure they fit specific application. Chillmax Technologies supplies these oil chillers in Bangalore, Delhi, Kolkata, Mumbai, Pune, Chennai, Hyderabad, Ahmedabad, Jaipur, Coimbatore and other major Indian cities.
Oil Chiller Manufacturers in India
We offer Oil Chillers in two configurations that are STAND-ALONE and IMMERSION TYPE.
STAND-ALONE: In this kind of chillers oil re-circulating pump is integral with chiller.
IMMERSION TYPE: In this kind of chillers evaporator i.e. coil is directly dipped into the oil sump.
Our products have enormous demand for their features like high efficiency, quality and reliability. In the process of offering best grade products to customers we check the quality of products at every stage. The complete array can be availed by our customers at highly competitive price.
Industries where our products find application are:
Special Purpose Machines
Injection Moulding machines
Hydraulic Power Packs
Die Casting machines
Spindle Head cooling
Hydraulic Presses
Broaching machines
Component Quenching
Machine tools
Honing machines
Pipe Bending machines
Deep hole drilling machines
Oil Chillers are used to maintain precise oil temperatures in hydraulic machinery like presses, powerpacks die-casting machines etc. Chillmax oil chillers are designed to work under extreme hot weather conditions and handle very high oil temperatures. Our hydraulic oil chillers keep the hydraulic machinery safe by keeping the oil temperature within the desired range. Chillmax Technologies supplies these machines in different capacities. Our hydraulic oil chillers are fabricated to function under hostile industrial environment and gives hassle-free operations.